Alright, that's enough metaphysics and "inner self" for now. Let's get to a card that a bit more tangible.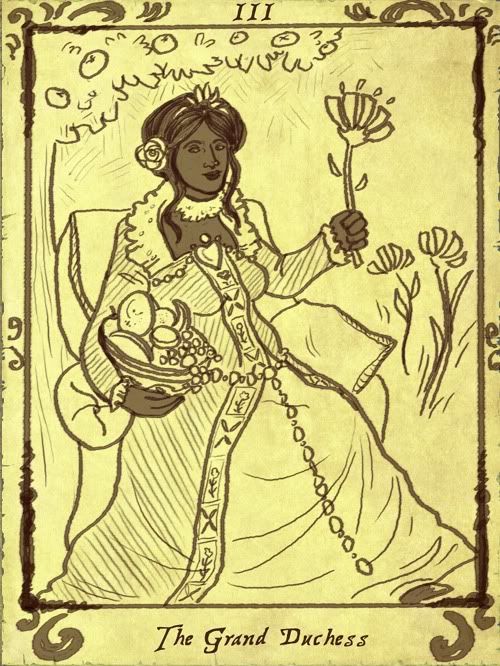 The Grand Duchess/The Empress
This is the other half of the feminine archetype (ngh) within the Major Arcana. Where the High Priestess is filled with feminine mystery, the Grand Duchess is the earthly side of a woman. In fact, "Mother Earth" is a pretty good way to just sum the whole thing up. This is a symbol of the power that the feminine holds over the Earth. Which is… quite a lot of power. Everything involving fertility and creation is ruled over by the Grand Duchess. This is a card of natural abundance, and natural beauty. Go out and see how beautiful the world is. See what nature has provided! Celebrate life!
(Now, some of us might note that men have something to do with fertility and creation, but, you know. Sexism Symbolism!! I suppose getting the credit for creation is the reward women get for having to lug their children around inside them for months and months.)
As a person, and a woman, this exemplifies a mother, but also a queen. She's elegant, she's beautiful, but she's not beautiful in the young nubile maiden sort of way. She is beautiful because she is mature, giving, and kind. She is a leader, and a powerful one, but she is gracious and caring. She loves her children, unconditionally. Her love is her great joy, and she can be compared to the fruits of the earth in this manner. She provides for her children. She nurtures her children. You can imagine her as a generous queen or as a laden fruit tree on a hot day – the general impression is the same. Come to her, and she will care for you. She has plenty, and she wishes to share.
Of course, given the association with fertility, sometimes this card means less of all that and more "hey, you're gonna have a kid". A somewhat more straightforward version of this card's message to celebrate life.
Inverse
You are hopefully lucky enough not to have encountered the "mother from hell", but you might know a friend who was not quite so lucky. This is the mother who will call you every day to complain that you never call her. She wants to know everything you're doing. She has an opinion on everything you're doing. She really wishes you'd listen and obey her with regards to everything you're dong. Mother knows best, after all! She wishes people would appreciate her more. She's smothering and over-protective, unable to let her children go or let them live their own life. When they don't take her advice, she complains they don't respect her. This is the kind of mother who will gladly ask/demand money from her children – she took care of them, after all, why shouldn't they pay her back? She might say that everything she does is for her children (who are just so ungrateful), but in the end, it's really about herself. She doesn't hold the power of the Grand Duchess through respect, she demands it – and she gets really upset when she doesn't get it.
Since the Grand Duchess has such a strong association with fertility, inversed it can also represent Hedonism, Promiscuity, and Extravagance. Hoo-ray. There's also a chance the card, inversed, can simply mean "Nature is one harsh Mistress."